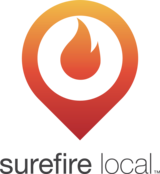 Account Executive - Total Annual On-Target Earnings: $137,000
Surefire Local is hiring for an Account Executive who will be focused on driving new business sales and generating revenue for our hyper-local digital marketing software-as-a-service (SaaS) solution. Along with the focused support of our marketing and lead generation team, you will work in a competitive sales environment alongside other motivated and determined sales professionals to help us reach our goals. This is an exciting opportunity for someone with 2-5 years selling experience to be part of a fast-growing, dynamic SaaS business.
Responsibilities
Drive new growth of our SaaS solution and generate MRR that exceed quarterly and annual quotas by owning and managing the sales cycle
Master our platform and the sales process through our product and sales introductory training program to effectively present solutions and uncover potential value to prospective accounts
Proactively identify qualified leads and effectively articulate the value proposition of the Surefire Local platform, converting these leads into new business opportunities and revenue
Build and maintain your pipeline of prospects to meet monthly quotas and contribute to your team's success
Utilize our internal tool to track outbound call results and next steps and accurately document and forecast sales opportunities
Measure and report on KPIs and key metrics to evaluate and improve sales effectiveness
Other job-related duties as assigned.
Skills, Experience And Qualifications
2-5 years of solutions-based sales experience, preferably SaaS
Proven ability to exceed sales quotas and goals while providing excellent customer support in client facing environments
Be adept at selling over the phone, via email, and/or through online audio and web conferencing
Familiar developing new business from marketing leads and self-sourced prospecting
Good product demonstration skills
Goal oriented, self-motivated, confident, competitive, thorough and tenacious
Time management, multitasking skills, and the ability to meet deadlines while effectively managing your calendar, inbox, and pipeline
Articulate, organized, detail-oriented and possessing the ability to perform in a dynamic, fast-changing environment
Salary: $45,000 base with uncapped commission on sales & performance-based bonus - Total Annual On-Target Earnings: $137,000


Compensation and Benefits
At Surefire Local, we're on a big mission that drives us every day. To get where we're going, we need extraordinary people who are passionate and curious. That's why we're committed to helping you learn new skills and grow in your careers. We're an equal opportunity employer, and all applicants will be considered for employment without attention to race, color, religion, sex, sexual orientation, gender identity, national origin, veteran or disability status. Together, anything is possible.
Your Personal Wellness
Surefire subsidizes employee medical coverage via Cigna and provides a slew of no-cost benefits including family dental and vision coverage, life & AD&D, short-term & long-term disability, and employer-funded Health Savings Accounts. Additional buy-up options include voluntary life, accidental injury, critical Illness, hospital care, Flexible Spending Accounts, Will Prep, LegalShield, and IDSheild.
Your Financial Health
Feel valued with a competitive salary, cash bonuses, restricted stock units and other incentives that allow you to share in Surefire's success. Plan for your future with our Retirement Program via Voya. 401(k) and IRA options including company-paid matching contributions.
Your Work-Life Balance
You choose where you work. We offer a Remote-First Work environment that allows employees the option to choose where they work. If you prefer to work from an office, you can visit us in Vienna, VA, Austin, TX, and Manila, Philippines. Manage your own schedule as you use our unlimited Flexible Time Off policy for vacation, personal needs, routine family needs, and relaxation.
About Surefire Local
Surefire Local started in 2009 as an idea — a way to help small businesses rank higher in search engines with cost-effective local marketing services that focused on SEO, search engine marketing and website management. A consistent, coordinated strategy across all organic and paid marketing channels translated to a lot of new customers. That idea became an ebook that spread like wildfire through the small business community.
Today Surefire Local is an all-in-one marketing intelligence platform with one critical mission: to help local businesses attract customers and grow profits efficiently. We provide the software they need to take control of their online visibility and guide them every step of the way with our team of experienced digital marketing experts, online training sessions, videos, tips, and more.
Through the years, we've had the privilege of working alongside thousands of local companies, and have watched many of them double and triple their profits with Surefire Local. With our flagship product, Surefire Local Marketing Platform™, locally-focused businesses of all sizes can remove digital roadblocks hindering growth, gain insights, and take action to attract and engage new and current customers through measurable, multi-channel marketing.